119: Pet baptizing kit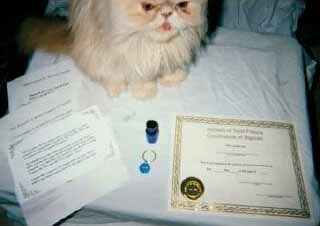 And you thought "repent and be baptized" was only for humans. Not so, according to Father Andrew, who recently hawked ready-made pet-baptizing kits on eBay. Here was a chance to get absolution from on high for Nero for biting the postman and Cuddles for wetting on your drapes. Predicated on the assumption that theology isn't all that important, the kit came with holy water, a baptismal certificate, a prayer (of St Francis, natch) and instructions for a baptismal ceremony that will "enrich the lives of both you and your pet".

Well. Now you know why they always stare forlornly at you when you're getting ready for church... it's nothing to do with wanting to be fed, they've been agonizing over their lost souls. Each kit was hand-packed and blessed by Father Andrew himself.

1000 blessings on Jim Spencer for caring enough to share this gadget.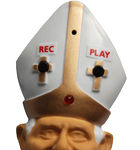 Gadgets for Papa Ratzi

Holy Father Emeritus! Add some ex-infalliblity to your life with our B16 gadgets.