114: Jesus soccer statue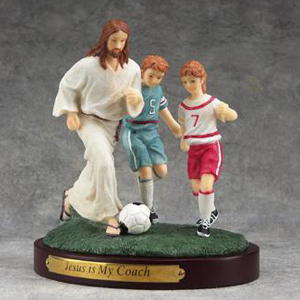 Swarthy Italian striker meets first century Palestinian fashion victim... This statue boasts the kind of culture clash guaranteed to show good taste the red card. Jesus, wearing Holman Hunt-inspired home kit, stands at the door of the opposition defence and knocks in a sweet cross – showing a clean pair of heels to a couple of... girls?

Ah, but then this godly gift ($20 from Catholic Supply of St Louis) is aimed at the American market where footie has a far greater fan base among the fairer sex. Many thanks to Tim Sneath and Zola Mumford, among others, for nodding this one in.

Click here for further info and ordering.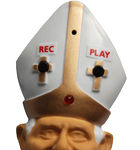 Gadgets for Papa Ratzi

Holy Father Emeritus! Add some ex-infalliblity to your life with our B16 gadgets.