187: Walled nativity set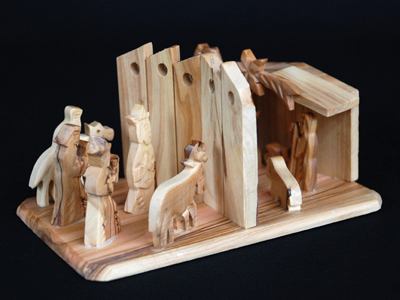 They're all out there – little godly gangs sanctifying sideboards worldwide with the true meaning of Christmas. The rubber duck nativity, the simulated driftwood nativity, the Peanuts nativity (starring Charlie Brown as Joseph and Woodstock as Jesus). Or you might prefer the 29-inch holographic nativity, the musical waterball nativity, the fibre optic nativity, the knitted nativity – and not forgetting the natty little nativity cookie cutters.

Then, like some giant damp squib, along comes the 13th day of Kitschmas. A real humbugging Scrooge of a party pooper, pouring icy water on the true, hedonistic spirit of the season. We give you the Walled Nativity, a none too gentle reminder of the 230-mile, six-metre high wall, topped with barbed wire and lined with guard towers, that encircles Palestine – and Bethlehem. As its purveyors, the Amos Trust, say, with not a little understatement: "This is a nativity set with a difference. In 2007 the wise men won't get to the stable."

At £12 for the small version, and £50 for the large, church version, the Walled Nativity is made all the more poignant for being made by impoverished wood-carvers in the town where Jesus the carpenter was born.

Click here to order!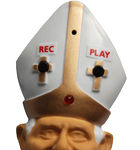 Gadgets for Papa Ratzi

Holy Father Emeritus! Add some ex-infalliblity to your life with our B16 gadgets.