137: Jesus ashtray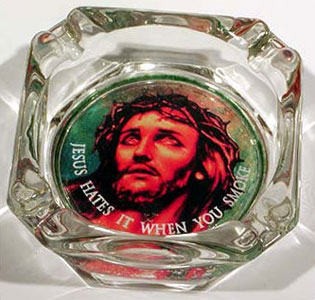 As everyone knows, God hates fags. So isn't it time you got the message?

Maybe you've tried everything. Hypnosis, nicotine patches, ultra-ultra lights, coughing in tongues. Well, how about the ultimate aversion therapy? Just gaze into the bearded face and tear-rimmed eyes of the one who has been successfully inducing guilt for centuries. And pray the Penitent Smoker's Prayer: "Jesus, gimme a light, willya?"

Cough up for the Jesus Ashtray: only $12. Click here!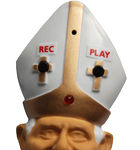 Gadgets for Papa Ratzi

Holy Father Emeritus! Add some ex-infalliblity to your life with our B16 gadgets.