124: Nesting nuns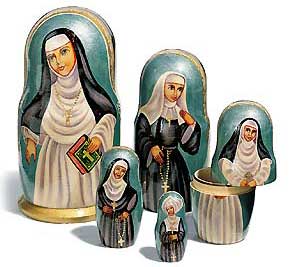 It all depends on where you've reached in therapy. On the one hand you may need a spiritual icon to provide increasing comfort. Simply open this five-piece doll nesting set – and watch Mother Perpetua get bigger and bigger. Mmmm...

Alternatively, is Mother P already too dominant in your subconscious? Some, er, healing of the memories needed? Start with her Bible-clutching version and work your way down to the smallest... Now, that's better, isn't it?

Tyrol International's inspirational matryoshka (signed by the artist, Sasha Abramov) is 'true to the tradition of Russian lacquerware with its rich colors and lustrous finish. The complete set is yours for only $59.95.

Many thanks to the immaculate Judith Philip for blessing us with this gadget.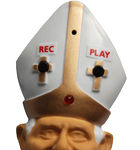 Gadgets for Papa Ratzi

Holy Father Emeritus! Add some ex-infalliblity to your life with our B16 gadgets.