123: Heavenly images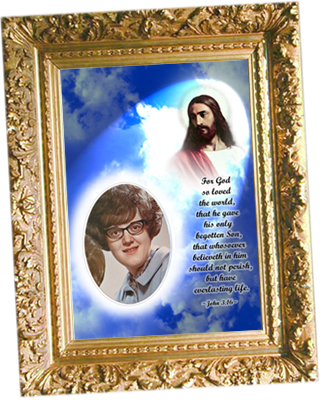 Snapshots of your nearest and dearest (departed or living), Photoshopped for eternity with Beard Almighty! Look... it's no use shaking your head in disbelief. You're just kicking yourself for not getting there first. "Feel the peace and joy," intones Heavenly Images. "We create custom pictures of your loved ones in 'heaven'! Touch someone's heart..."

At the same time, of course, heavenlyimages will touch your wallet. Ordering Jesus and One Loved One (8"x10", color glossy) will lift $25 (plus $3 shipping) from that much-depended-on legacy. But let's not be too grave. You could always have BA watching over your wedding day or popping up, top left, in all your holiday snaps – though, it has to be said, that preoccupied, glazed stare could become a tad tiresome on a 36-roll of you on your beach holiday.

Thanks for being an angel and tipping us off about Heavenly Images, Peter Meadows. Consider yourself promoted to glory.

Click here to order.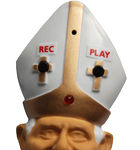 Gadgets for Papa Ratzi

Holy Father Emeritus! Add some ex-infalliblity to your life with our B16 gadgets.