110: Last Supper musical pillow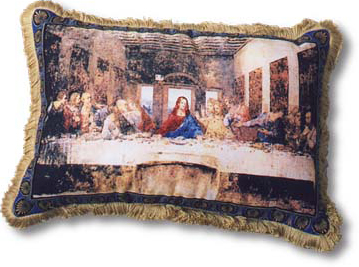 Lay your head on the Last Supper Musical Pillow and be transported back in time to the sights and sounds of that historic occasion. The sights, in this case, include the sumptuous Leonardo da Vinci group pose with reverential gold braiding. The sounds: the pillow plays "Hey Jude" – or should that be, "Hey Judas"?

Measuring a generous 15 x 11 inches and including a wind-up music mechanism, the Last Supper Musical Pillow gives authentic evidence that Jesus's foot-washing, bread-breaking and speech-making took place during an extended karaoke session involving all the disciples, with rousing refrains of "take a sad song and make it better," and "na, na, na, na-na-na-nahhh". Only $28.00. Be there.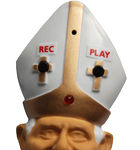 Gadgets for Papa Ratzi

Holy Father Emeritus! Add some ex-infalliblity to your life with our B16 gadgets.