42: No preaching door plaque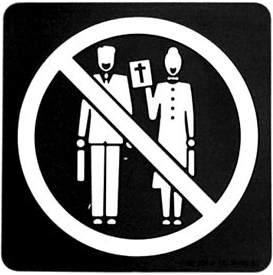 Your doorbell rings. You open the door to find a man and woman standing there, him with a briefcase, her with several magazines, both of them with well-rehearsed smiles. You know them at a glance: they are the door-to-door disciples. Fifteen minutes of boredom beckons...

An end to this suburban misery is now in sight, thanks to Ring of Fire's "No Preaching Please" door plaque. This 5-inch plastic symbol, with easy-to-stick adhesive strips, says no to Bible brandishing zealots in language that even they can understand. "Put this near your front door and watch them scurry away," says the sales blurb. "Who knows, it may even help prevent dogma attacks!" A bargain at just $6.00.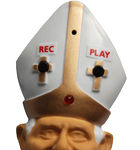 Gadgets for Papa Ratzi

Holy Father Emeritus! Add some ex-infalliblity to your life with our B16 gadgets.