208: Jesus shaves mug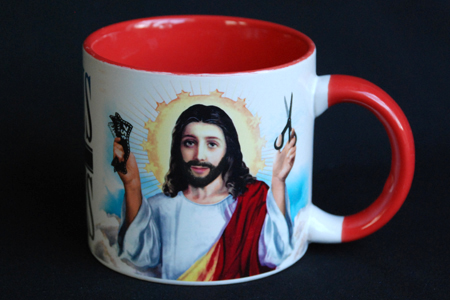 There was a time, of course, when beards covered a multitude of chins. There was Moses and St Paul. There was Leonardo and Michelangelo. There was Santa. There was even Marx and Darwin, both much bushy of face. But the day of the beard has now sadly passed. The beard is no longer king. All that remains are the bearded chops of Rowan Williams.

To mark this tragic loss in modern life, the commemorative Jesus Shaves mug looks back to the most famous facial hair of them all... the beard of JC himself. Simply add a hot drink to the mug, and the familiar facial hair of our Lord melts away to reveal... an Italian hairdresser.
Sic transit gloria mundi.


Mourn the passing of the great beards of yore with the Jesus Shaves mug. Only $12.95 from the good folks at the Philosopher's Guild.

The 12 Days of Kitschmas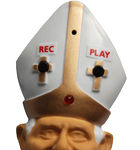 Gadgets for Papa Ratzi

Holy Father Emeritus! Add some ex-infalliblity to your life with our B16 gadgets.