207: Say-a-blessing!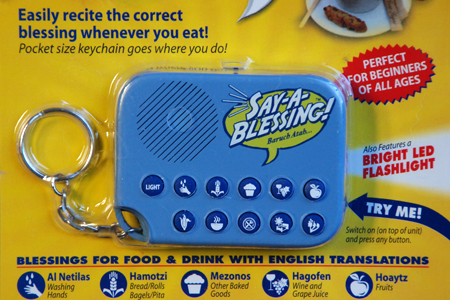 It's never going to be easy learning prayers in ancient Hebrew. But it just got a little less hard, thanks to the wonders of microchip prayer.

Stick the Say-a-blessing! keychain in your pocket, and you're ready for anything in the culinary dept. About to eat a bagel? Hit the Hamotzi button, and your electronic rabbi recites the correct blessing. Ready to sink your teeth into some fruit? Click the Hoaytz button and get another prayalong blessing. The same's true for fish, eggs, vegetables, wine... you name it. This little box is full of amazing graces, all voiced by Rabbi Zalman Goldstein.

Say-a-blessing! turns ritual into a piece of cake. And there's even a button for that, too. Just $14.95.

The 12 Days of Kitschmas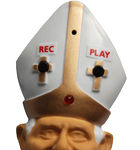 Gadgets for Papa Ratzi

Holy Father Emeritus! Add some ex-infalliblity to your life with our B16 gadgets.