168: Jesus pan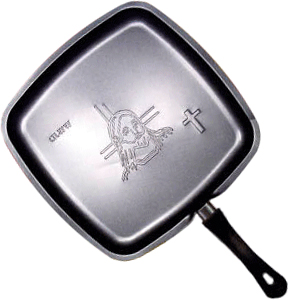 Tired of tarrying for God to bless your pepperoni pizza with an uncanny likeness of the BVM? Crushed when the crust of a friend's steak pie resembles the Bearded One? Strive not, gentle believer. Divine intervention is only a pan handle away.

"Made from durable steel and topped with a non-stick coating, the Jesus Pan puts the image of Jesus RIGHT ON FOOD!" Now, for just $29.99, even your shamefully dull eucharistic bread can be served all logo'd up! "Take, eat, this is my one true bread... at participating churches only."

Click here to order!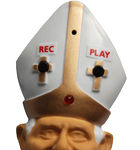 Gadgets for Papa Ratzi

Holy Father Emeritus! Add some ex-infalliblity to your life with our B16 gadgets.