236: Orthodoxy or Death! t-shirt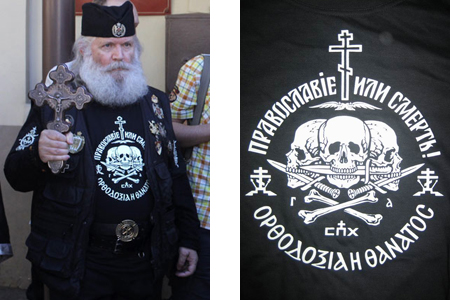 The latest fashion craze among our extreme right wing brethren in Russia is a t-shirt decorated with skulls, knives and the cross, carrying the slogan "Orthodoxy or Death!" A Russian court is currently deciding whether the t-shirts are in fact illegal, so get yours while you can! As modelled by Santa's evil twin (above).

We can't imagine this working for other denominations. "Methodism or Death!" somehow fails in the balls department. So why not join the Russian Orthodox Church, get your t-shirt and clunking metal cross, and get stuck into the mission to joyfully stamp on everyone else's form of faith?

The Orthodoxy or Death! t-shirt: yours for only 750 Rubles.

Thanks to shipmates Ildar and Peter S for letting us know where the t-shirt is for sale online.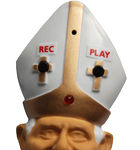 Gadgets for Papa Ratzi

Holy Father Emeritus! Add some ex-infalliblity to your life with our B16 gadgets.