222: Information Age Prayer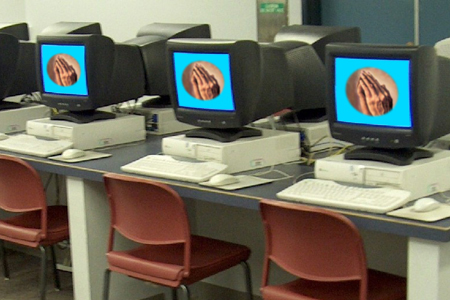 Computer prayer meeting

Bored with prayer? Can't be arsed to implore the Almighty for help? Don't even know where your Rosary is anymore? Let a new online service – Information Age Prayer – come to your rescue! With the right subscription package, their computers can be set to intone your prayers daily, using state of the art text-to-speech synthesizers.

Whether you're a Protestant, Jew or Muslim, there are prayers specially for your religion. And for Muslim prayers, "the computer speakers will be facing Mecca".

But this soul-saving service really comes into its own with prayers for Catholics. The Hail Mary and the Rosary, which have to be repeated over and over again, are onerous for humans, but a breeze for a PC. Information Age Prayer's computers will recite the Hail Mary for just 7 cents a pop, or the complete Rosary every day for a month, for a modest $49.95. Something like this (click to hear)...





Information Age Prayer: let their computers do the interceding for you! Prices start at just $1.99 a month.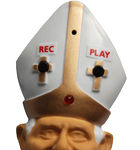 Gadgets for Papa Ratzi

Holy Father Emeritus! Add some ex-infalliblity to your life with our B16 gadgets.