215: Cat-o-seven flogger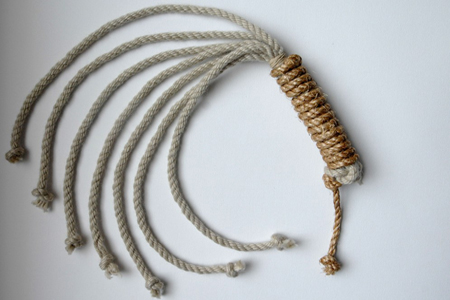 Hairshirts, whips and the like got a bad press in
The Da Vinci Code
. Little wonder, then, that the makers of today's hottest range claim that, in the early days of Christianity, their kind of products "became very common... even amongst ordinary lay people... as an aid to resisting temptations of the flesh." So that's all clear then – self-flagellation is boringly ordinary.

But all of us have a bad hairshirt day now and then and if sackcloth and cilice don't fully cut your mortification mustard, here's the top deal. Buy one of their shirts (now $49.99 reduced from $100) during Lent and you'll receive a FREE handmade cat-o-seven whip (euphemistically called a discipline). Worth $29.99, each one of these little lashers has seven tails – yes, that's one per deadly sin.

And you can relax about the postman. Cilices, whips, hairshirts, mantillas and other items ship in "discreet packaging" – so he'll think it's just porn. Being flogged here for $93.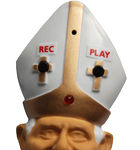 Gadgets for Papa Ratzi

Holy Father Emeritus! Add some ex-infalliblity to your life with our B16 gadgets.