174: Footballing Jesus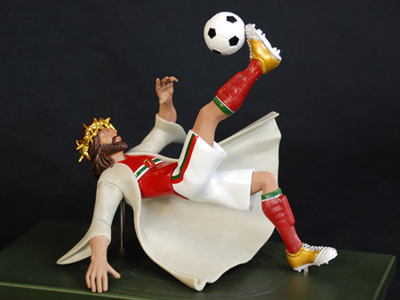 If brand Beckham is truly serious about redeeming the USA for the beautiful game, here, perhaps, is his next Posh-inspired incarnation. Style gurus will have warned "Golden Balls" that a previous Mohican hairstyle is just too threatening – and potentially offensive – to indigenous Americans. Winning over the Bible belt requires subtlety and discretion. A crown of thorns, then? At the same time, Mr B can show the colonials what

real

football is all about – and what the UK Premiership is missing – with a mesmerising, Messianic overhead scissor kick.

Call in at the We Are Fishermen site for surfing, skateboarding, motorbiking and other unlikely incarnations of Jesus. "I am Victory" (above) can be yours for just $20 (plus postage).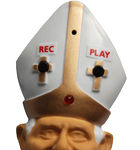 Gadgets for Papa Ratzi

Holy Father Emeritus! Add some ex-infalliblity to your life with our B16 gadgets.