134: "Well done, dude!" statuette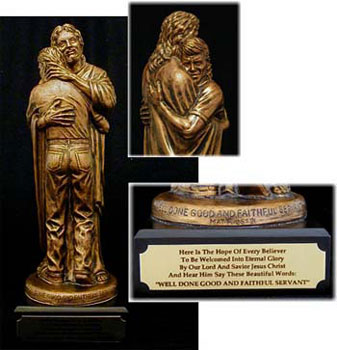 How to show your appreciation for your master pastor? A bottle of gin perhaps, or a scripture text book mark, depending on theological bent and/or level of appreciation.

But what about the person of the cloth that beats the lot? The hardest working, hardest hitting preacher of them all? How about a great big manly hug from Jesus? The Jesus hug statuette says, "Well done, thou good and faithful pastor". Or alternatively, looking at the body language, "There, there, let it all out."

It's a perfect award for any minister – especially if they're young, male, and wear jeans rather than a cassock. And look uncannily like JFK.

Standing proud at 13 inches tall and weighing 10 pounds, this inspiration statuette is yours for a mere $49.95. Click here!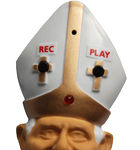 Gadgets for Papa Ratzi

Holy Father Emeritus! Add some ex-infalliblity to your life with our B16 gadgets.