133: Nail ornament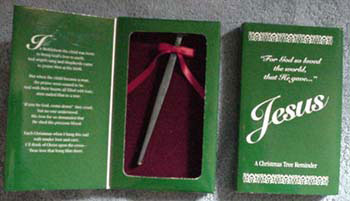 This year, give someone a very special present that they'll treasure for ever. Yes, give them... a nail in a cardboard box. This 5-inch nail-in-a-box comes with a Very Special poem...


In Bethlehem the child was born to bring God's love to earth,
And angels sang and shepherds came to praise Him at His birth.
But when the child became a man, the praise soon ceased to be.
And with their hearts all filled with hate, men nailed Him to a tree.
COMING SOON!
A 7-inch screw in a cardboard box, to remind you of what George Bush and Tony Blair did to the Middle East! Meanwhile, get your nail in a cardboard box for just $8.99. Click here!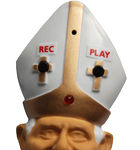 Gadgets for Papa Ratzi

Holy Father Emeritus! Add some ex-infalliblity to your life with our B16 gadgets.