104: Light-up musical Jesus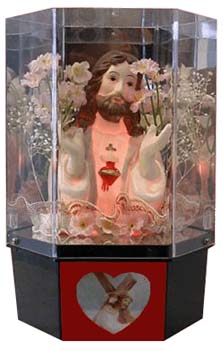 Revolt your friends for just $15.95 with the Light Up Musical Jesus... an object which comes dangerously close to giving kitsch a bad name. Looking like a bloated, drowned corpse floating amid ugly plastic flowers and lace, this Jesus is without a doubt the whitest Jesus we've ever seen.

According to the sales blurb, Light Up Musical Jesus "glows and flashes hypnotically" (seizure-inducingly?) to the rockin' tune of "Hark the Herald Angels Sing". Surely the inspiration for this was an LSD flashback. Manufacturer, if you're reading this, you can find the help you desperately need through long-term therapy and medication. Seek help now.

"Thanks", Karen L. Ford, for telling us about this objet d'art.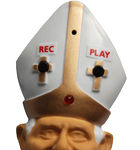 Gadgets for Papa Ratzi

Holy Father Emeritus! Add some ex-infalliblity to your life with our B16 gadgets.