71: Mother Teresa singing doll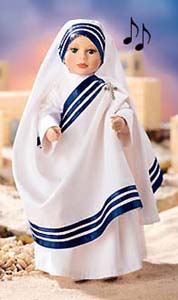 Though uncannily reminiscent of the Lady Penelope nundoll, the tea-towel headpiece is unmistakable. It's a wrinkle-free Mother Teresa, complete with "key-wind musical movement". Yes, you can experience the world's favourite nun singing "You Light Up My Life" ($49.98 from Tyrol).

Of course, Mother Teresa herself would have been far more effective if she had been able to croon the odd classic. Instead of actually caring for the poor of India, she could have done the usual religious troubadour thing – touring the developing world, posing for photographers with a starving child in one arm and her latest CD in the other. An opportunity sadly missed...

But this is, surely, not the end of the soon-to-be-saint's posthumous career in the arts. Even now, Andrew Lloyd-Webber and Tim Rice must be sharpening their pencils. They inflicted us with Evita, Joseph and JC Superstar. What price Teresa: the musical? "Woe, Calcutta"...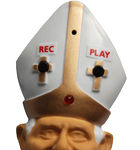 Gadgets for Papa Ratzi

Holy Father Emeritus! Add some ex-infalliblity to your life with our B16 gadgets.