41: Darwin fish bumper badge



A rogue Gadget has somehow crawled onto these page – a Gadget for the Ungodly, surely? A Gadget spawned by the fierce debate between creationists and evolutionists. Their battle has now spilled out of the classrooms and courtrooms and onto the Great American car bumper... where an answer to the Christian fish symbol has appeared: the Darwin fish. Sprouting legs, it emerges onto dry land, and onto a fender near you.

Get your Darwin fish for just $5.99 in the US, or in the UK, £4.95.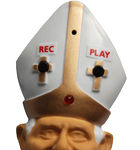 Gadgets for Papa Ratzi

Holy Father Emeritus! Add some ex-infalliblity to your life with our B16 gadgets.