217: Star Trek casket or urn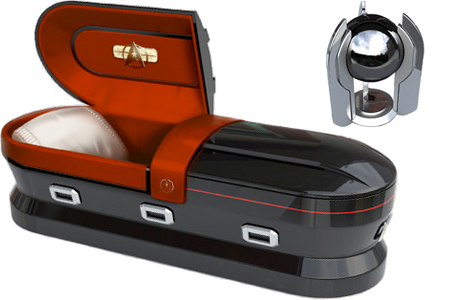 In this time of gloom and doom, why not cheer yourself up by pre-buying that coffin or casket you've always promised yourself? Many of the most prudent saints of old kept a casket in their house, just to remind them of what lay ahead... so why not follow their inspiring example? You may live long and prosper – but you're just as likely to die soon and wither.

May we recommend the new Star Trek Casket (or indeed, the Urn, pictured above) for that final, "Beam me up, Lord" moment? The casket, which will debut later in 2009, is styled on the warp-capable photon torpedoes first used by the Klingons and as seen in
Star Trek II: The Wrath of Khan
. What better way to enter eternity than in an antimatter weapon? Dick Cheney has his ordered already.

Look great even when you're dead. Find out more about Star Trek deathware here – price to be confirmed.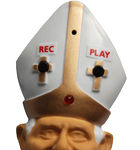 Gadgets for Papa Ratzi

Holy Father Emeritus! Add some ex-infalliblity to your life with our B16 gadgets.