151: Inflatable church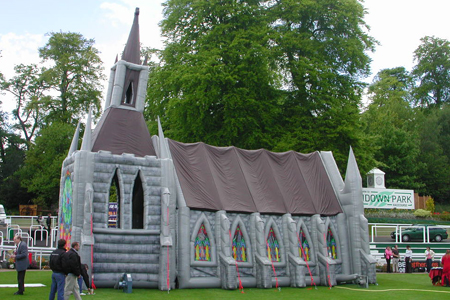 Hot air and churches have a long, interwoven history, but it took Mike Gill from Southampton finally to bring them together. The world's first inflatable church, which cost a cool £15,000 to make, is 47ft high from ground to steeple and includes a blow-up organ, altar, pulpit, pews, candles and "stained glass" windows. But sadly, when we spoke to Mike recently, nobody had yet hired it for what it is intended – wedding services, at a cost of up to £2,000 a go.

"If the bride and groom are called Ann and Peter, then we can call the church St Peter or St Ann, so they can even put that on the invitation," he ventured. Er, ye-es... Perhaps someone should tell Mike that people like admiring, discussing and criticising churches. Actually going inside them is, however, another matter.

Inflate your wedding! Click here! Thanks be to Simon Grimes of Australia for alerting us to Inflatable Church.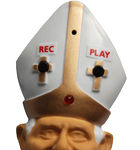 Gadgets for Papa Ratzi

Holy Father Emeritus! Add some ex-infalliblity to your life with our B16 gadgets.