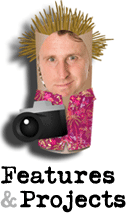 The story so far...

You're currently on our features and projects pages, with material ranging from the satirical to the theological. For more features, click here.


We're crowdfunding for a new voyage of Ship of Fools

We're really pleased to announce that we're building a new Ship of Fools. The last time we gave the old tub a fresh lick of paint was almost a decade ago, and this time around we're remaking the Ship entirely, so we can concentrate on the things we do best.


The new Ship is going to have three sections:

A blog for comedy and comment so we can respond quickly to passing news, and in greater depth to longer trends.

Our discussion boards, which will run on new forum software.

The Mystery Worshipper, which will be more interactive than ever before, with commenting and searchable reports.

A lot of people board Ship of Fools each month. In August, we had our best month of the year, with almost 2.3 million pages viewed. We're looking forward to offering everyone a much better time onboard, making the Ship viewable on mobile, tablet and desktop, and refreshing everything we do.

While we're making such big changes, we've decided to produce a new logo for the Ship, and to slim down the huge amount of content we're carrying with us. We're excited to be getting ready for a new voyage, and we hope you'll be with us in this exciting new adventure.

If you enjoy Ship of Fools, follow us on Twitter or Facebook, or call in here regularly, please pay a visit to Shipyard of Fools, our crowdfunding site, where you can help us raise the money needed to rebuild the Ship. We need £2,500 to do the work. Please visit the Shipyard here:

Shipyard of Fools

You'll also find news items which give more detail about how we're upgrading everything we do. Thanks for reading, and thanks for your support.

The Ship of Fools crew



Visit the Shipyard of Fools website to help us raise £2,500 for building the new Ship of Fools.