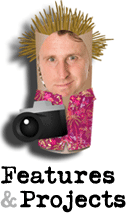 The story so far...

You're currently on our features and projects pages, with material ranging from the satirical to the theological. For more features, click here.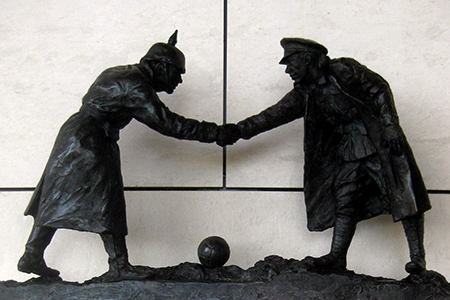 Photo: Diego Sideburns

A story of love and loss, secrets and football

Rattles & Rosettes is Ship of Fools co-editor Steve Goddard's first novel. The story of two football fans a century apart, it is gaining steady momentum, attracting rave reviews on Amazon. We're therefore delighted to share this post-match analysis from reader Tim Pike.


As someone who has monitored Steve Goddard productions from afar for many years, when I heard he was releasing a bona fide novel I made sure I was among the first in line to order a copy. My enthusiasm had been given a further boost by the promise of twin stories set a century apart, but built around a shared passion for The Beautiful Game.

Indeed, Rattles & Rosettes alternates between a first-person account of young Lancashire miner Tom Daws's quest to see his beloved Burnley take on Liverpool in the 1914 FA Cup Final, and the tale of modern-day urbanite Dan Howard's battle to come to terms with 21st century football against the backdrop of his beloved Crystal Palace's administrative struggles in 2010.

The two leading lights are ably supported by a small but perfectly-formed cast of partners / love interests, acquaintances, parents and grandparents (including one particularly dynamic yet enigmatic ninety-something grandmother), who enable the book to work on a whole host of levels. It quickly becomes apparent that football may be the constant but that this is in fact a story about love, loss, family, well-kept secrets, cross-class and cross-generational friendship, the contrasts between today's society and that of the early years of the 20th century, and much more in between.

It will come as no spoiler to hear that eventually, somehow, Goddard cunningly ties the two stories together in a manner which is as surprising as it is masterful, with a mesmerising, twisting and turning crescendo that builds over the final chapters before spilling over onto a genuinely emotional epilogue. Throughout, the main stories and subplots are perfectly paced and constructed, delivered in accessible, bite-sized chunks which will appeal to casual readers.

This isn't, however, simply a casual read, but rather a book of immense substance. Throughout, life is breathed into the multi-dimensional warts-and-all characters, and the descriptions of the real-world events which both Daws and Howard experience are the end-product of painstakingly thorough research. Neat cultural references are also dotted throughout the book, from the occasional Beatles lyric or tune to scenes inspired by today's conveyor belt talent shows. At one stage characters quote a scene from Back to the Future – for some reason that (pivotal) moment actually sent a shiver down my spine. And nowhere will you read a more moving account of the mythical WW1 Christmas Truce football match between British and German soldiers.

My single gripe about Rattles & Rosettes is its sombre cover design, the components of which do admittedly make sense once you've read the book (and that includes the figure-hugging Italia '90 vintage shorts worn by the footballers). So the cover is something I'm working my way around right now in my personal promotional campaign, selling Rattles & Rosettes to all-comers as an infectiously uplifting and inspirational piece of literature which is not as dark as the cover would suggest (despite featuring scenes set in Lancashire mines, the trenches of Ypres and, yikes, a Newcastle night-club).

My pools panel forecast for Rattles & Rosettes is that football fans will lap it up, while Crystal Palace and Burnley supporters will be in pure paperback heaven. What the book deserves though is readership which extends much further than that, given how many boxes it ticks in terms of its potential Hornby-esque mass-audience appeal.

In short, in case you hadn't realised, I regard Rattles & Rosettes as a triumph of a first novel and a thing of sheer beauty.

Read the first three chapters of Rattles & Rosettes here

Buy your copy: Kindle edition (£3.56) or paperback (£7.99)

Read the Amazon reviews

Read the Church Times interview with Steve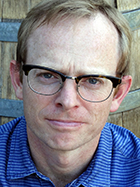 Tim Pike is an Englishman in France who works in the communications department of an aviation electronics company. He can often be spotted riding a vintage yellow bicycle or strumming a guitar, and he also runs Invisible Bordeaux, a guide to some of the lesser-known stories and sights to be enjoyed in and around Bordeaux.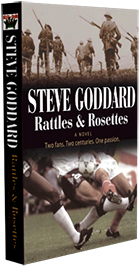 Rattles and Rosettes is published by Ship of Fools.

Kindle edition (£3.56)

Paperback edition (£7.99)

Visit the Rattles and Rosettes website