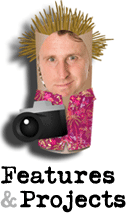 The story so far...

You're currently on our features and projects pages, with material ranging from the satirical to the theological. For more features, click here.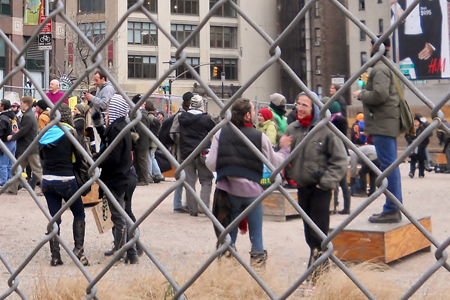 Previous | Next picture | 1/13

What would Jesus occupy?

When Occupy Wall Street activists tried to set up camp in a vacant lot owned by Trinity Wall Street, the richest church in the Anglican world, the NYPD moved in to arrest them. Becky Garrison, who was there for Ship of Fools, filed this report and slide show.

Occupy Wall Street came into being when protesters set up camp in Zuccotti Park, Lower Manhattan, on September 17th. When the camp was broken up by police and the protesters were violently evicted from the park two months later, they sought to set up a new camp on a vacant lot owned by Trinity Wall Street, a church which is one of the biggest landowners in Manhattan.

The lot, which is surrounded by a chain link fence, is titled Lent Space and situated at Duarte Park, Manhattan. But Trinity, which had offered moral and practical support to the demonstrators while they were in Zuccotti Park, said "no, no, no" to the camp in Lent Space.

It was a decision backed by the Diocese of New York, the US Episcopal Church and even Archbishop Desmond Tutu. But as the Faith in Public Life blog argues, the decision appears to be informed more by Trinity's vestry line-up than generic "health, safety, and sanitary" concerns.

Fast forward to December 17th – a day annointed by the retail gods as "Super Saturday". It's also a date which commemorates the three month anniversary of Occupy Wall Street – not to mention the one year anniversary of Mohamed Bouazizi setting himself on fire, thus inspiring the Arab Spring. That day, Occupy activists – including epsicopal priests – demonstrated at Duarte Park and then attempted to occupy Lent Space by climbing over the chain link fence.

Follow the events by viewing the slide show above.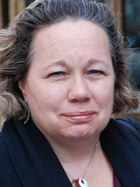 Becky Garrison was senior contributing editor for fabled satirical magazine The Wittenburg Door and is the author of Jesus Died for This? A Satirist's Search for the Risen Christ.