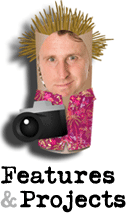 The story so far...

You're currently on our features and projects pages, with material ranging from the satirical to the theological. For more features, click here.


Virgin Mary played by the good, the pretty and teacher's pets

Two out of three women believe the girl cast as the Virgin Mary in church and school nativity plays is chosen because she is good, pretty or teacher's pet.


A new survey, carried out for Ship of Fools as part of the launch of our Facebook nativity play, Roll on Christmas, discovered a mere three per cent of women believe the role is cast for acting ability. Instead, they say, the mantle of the Virgin Mary is awarded for attractive looks (27%), good behaviour (22%) and for being a favourite of the teacher (16%).

"We've unearthed a simmering tension among the tea towels," says Steve Goddard, co-creator of Roll on Christmas.


Not pretty enough to be Mary


According to the survey, carried out among 1018 adults throughout the UK by Christian Research, only 12% of women played the role of Mary when they were children.

A video filmed by Ship of Fools at the Greenbelt festival (see the YouTube clip above) backs this up. Most of the women we talked to were not picked for this, the most immaculate of roles. Not that they're bitter about it, of course.

"I wasn't pretty enough to be Mary," said one woman, who then added tartly: "That's alright though. I didn't want to, she was always a bit wet."

"There was definitely a hierarchy going on in churches about who could be Mary," said another non-Mary. "She was always the good girl in the church, whereas the reality was that the original Mary wouldn't have been perceived as a good girl."

Says Steve Goddard: "'Ironically, one of the great distinctives about the biblical narrative is the way the 'leads' – Moses, for example – weren't picked on the basis of appearance or accomplishment."

He adds: "Our do-it-yourself online nativity play, Roll on Christmas, allows you to get your own back. You can put your family and friends into a two-minute animation featuring the usual Bethlehem suspects, from the wise men to Herod. Many people play Elf Yourself online. This is Virgin Mary Yourself."


Bethlehem baddies


The survey also reveals that the popularity of parts in the nativity play changes as people get older.

Two out of five (42%) of the women surveyed wanted, as children, to play Mary. But only 10% of them would play Mary today. One in four (23%) of men wanted to play Joseph, but now only 10% of them would want a crack at the role.

Instead they'd like to play the Bethlehem baddies: King Herod and the door-slamming Innkeeper. "I'm old, fat, not so good looking and look angry most of the time," commented one survey-doer about playing Herod. "He is the most fun," said another fan of the dastardly king. "The others are all goody-goodies."

Rachel Rounds of Bible Society, who have partnered Ship of Fools in producing Roll on Christmas, says the Facebook play taps into this desire for real characters, warts and all.

"The original characters – from shepherds to innkeeper – were ordinary people with foibles, caught up in a divine drama. We wanted to show they were human like us. Roll on Christmas caricatures the way we tend to behave over the festive period – shopping, drinking, eating, partying and celebrating to excess. And missing the point of it all."

Milton Jones, who provides the voiceover for Roll on Christmas, says: "It's easy to get all sentimental about the birth of any baby. It's what this baby grew up to become that is finally important. Part of the problem about Christmas is that it's hard to get traction on a story that is too well known. Roll on Christmas provides a new, contemporary spin in an original setting."

Roll on Christmas is a joint production of Ship of Fools and Bible Society with more than a little help from Jerusalem Productions.