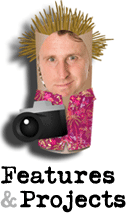 The story so far...

You're currently on our features and projects pages, with material ranging from the satirical to the theological. For more features, click here.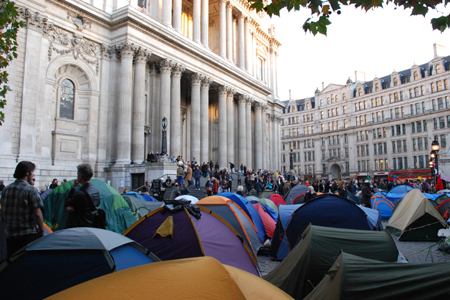 St Paul's loses the plot
By Simon Jenkins
1 November 2011


Yesterday marked a new low for St Paul's Cathedral in its two week old crisis. A third clergyman threw himself off Chris Wren's famous dome, careerwise. I think the Occupy London camp would have considered it a result if their protest had prompted a few bankers to leap to their deserved doom off the NatWest Tower, but the cathedral resignations have probably been as much a surprise to them as to everyone else.

As far as I can discover, Graeme Knowles is the first Dean of St Paul's (and there have been a lot of them, including the poet John Donne) to resign. Many of them have moved on to become bishops and even archbishops, and it will be fascinating to see what job the C of E rustles up for him next. Will the church reward failure in the same way as the banks?

St Paul's has lost the plot. Their PR, which for Byzantine reasons is run from the obscure town of Brough in East Yorkshire by Rob Marshall's 33rpm, was taken to the cleaners in PR Week a few days ago. Their fake concern about health and safety was exposed as a ploy to get the protesters out in the New Statesman. But worse than that, St Paul's has lost the Christian plot, the whole reason it is there.

What happened two weeks ago on Ludgate Hill is that people came to church. The protesters turned up at St Paul's by accident and decided they wanted to stay. There, on the cathedral's doorstep, they set up camp. And in doing that, they gave the church a new congregation. Here was a fabulous opportunity for St Paul's to shed a bit of pomp and hauteur, to bring the faith out of doors, to do some services outside, to be a bit spontaneous, to provide the protesters with some spiritual nourishment, to rediscover a connection with ordinary people, to have a conversation.

Lucy Mangan, the Guardian columnist, wrote about this fantasy version of the cathedral with real feeling last week in her piece, St Paul's – embrace your new flock. 'These are your people,' she told the cathedral.

But instead of rising to the occasion, and to huge disappointment, the cathedral's instinct was to shut up shop and get in the lawyers. It's hard to think of anything more negative and dispiriting than St Paul's actually shutting itself down. Christians around the country of all traditions have been left banging their heads against the wall in frustration at the sight of the church behaving so badly.

What makes it worse is that church leaders don't seem to understand just how epically they are screwing up. ('Screwing' isn't quite strong enough, but this is a family blog.) There was no word in this direction in Dean Knowles' resignation statement, which was instead full of personal and institutional self-pity.

Bishop Nick Baines blogged yesterday about why the UK's bishops have taken an oath of silence on St Paul's which even Tony Soprano would admire. But as he must know, the silence of C of E leaders is a huge let-down for Christians across the country who would like to be reassured that their feelings of outrage are justified. Their silence is a betrayal in the name of not rocking the boat. The bishops have lost the plot too.

It is hard to imagine Jesus in the Deanery, sherry in hand, consulting his lawyers. On the other hand, it is easy to imagine him in the camp, sitting in a tent, talking to the people who have no voice but who want to find it and be heard.

But beyond Jesus' compassion and engagement with ignored people, there's something else. Jesus threw the money changers out of the temple because they filled their own pockets by ripping off the poor. He was angry with them and treated them like the dirt they were. The Occupy London protesters are making the same point about the bankers, but the church, the advertised followers of Jesus, are telling them to shut up, pack up and go home.

With the welcome departure of Dean Knowles, St Paul's now has an opportunity to reconsider its position and find not merely 'new leadership' as the Dean put it, but a new direction. Is it too much to hope that a cathedral could start taking some creative risks for the gospel? If St Paul's fails to seize the moment, then its mission is lost, and its inspiring building an empty icon.

I've always loved St Paul's – ironically, the church of the tentmaker. I've found it a place of wonder and mystery ever since my first visit to London at the age of nine. I believe it can recover its mission, but only if it dramatically changes course. Whether the people now in charge of this glorious architectural Titanic have the imagination and strength to steer it through the icebergs remains to be seen. They deserve our prayers.

To comment on this piece, please go to the Simon Jenkins blog.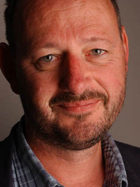 Simon Jenkins is the editor of Ship of Fools.