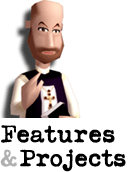 The story so far...

You're currently on our features and projects pages, with material ranging from the satirical to the theological. For more features, click here.
Sikh and ye shall not mind

Like it or lump it, the BBC has dumped its Christian head of religion without reason, while the flagship devotional programme,
Songs of Praise
, is now in the safe, sympathetic hands of a Sikh producer.

For almost 70 years, the BBC played it far too safe when it came to religion. It's hard to believe, but only people with a long-term commitment to religious broadcasting (and a devoted faith) were appointed head of BBC Religion. Canon David Winter, Rev Dr Colin Morris, Rev Ernie Rea... an endless procession of dog collars ran the show.

But the new millennium heralded a fresh, enlightened dawn. In 2001 Alan Bookbinder, avowedly agnostic and (refreshingly) with no particular commitment to religious broadcasting, was given the hot seat.

Some doubted the move, but the thinking of the BBC's top brass was visionary. They took as their model Sir David Attenborough. He has absolutely no interest in wildlife and conservation, and that's what makes his programmes so compelling. And Alan Titchmarsh is a self-confessed, feet under the desk, office type who can't bear the outdoors. His highly popular programmes on gardening and the natural world are the result.

It was a huge surprise, then, when Bookbinder didn't prove to be a spell-binder. In 2006, the high-ups reverted to type and plumped for Michael Wakelin as Bookbinder's replacement. Wakelin is a Methodist preacher with a disappointingly distinguished track record in religious programme production. A bit of a regressive howler, admittedly, but you can always trust the BBC to regain the plot... eventually.

In November 2008, they made the sensible decision to give
Songs of Praise
, the department's flagship programme offering traditional Christian worship and loved by millions of churchgoers to... a Sikh. With Tommy Nagra as executive producer,
Songs of Praise
was obviously in safe and sympathetic hands.

Hotfoot behind this excellent development came the news many had fasted and prayed for: the humiliating dismissal in all but name of Wakelin for no good reason whatsoever. "Michael was told to apply for a new role of head of production and commissioning editor for religion and ethics in a restructured BBC Knowledge division," said a BBC drone. "Unfortunately he was unsuccessful. He is currently considering his options."

So, with Wakelin walking, we can joyously report the way clear for an imaginative, dynamic new commissioning editor for religion – to further discourage a department that has witnessed the departure of most of its senior Christian staff since the beginning of the year.

This time the corporation must act fearlessly, radically. Informed discussion of religion has never been more important to our society. Let's pray the BBC doesn't again regress into dull conservatism. With that in mind, we present the Ship of Fools guide to...


The obvious front-runners

Sir Fred Goodwin

– renowned for being "a safe pair of hands" on the money side, Sir Fred will know how to manage a department running on an ever-shrinking budget.

Richard Dawkins

– has done more than anyone else to bring passion, debate and a fresh new perspective to the subject of God, and is therefore a natural choice for the job.

Eric Idle

– as composer of the hymn "Always Look on the Bright Side of Life" (a perennial favourite on

Songs of Praise

), Idle would bring a bracingly new approach.

Terry Sanderson

– not only President of the National Secular Society (a recommendation in itself), he has also just launched the popular debaptise yourself kit.

Lollipop Lady

– Mrs Henrietta Scraggs, currently working (mornings only) in Belper, has said she is willing to "have a go" at the job.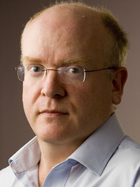 Ousted: Michael Wakelin, former head of religion and ethics at the Beeb.