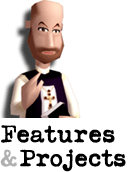 The story so far...

You're currently on our features and projects pages, with material ranging from the satirical to the theological. For more features, click here.
Faith, hope and charity shop



They once blessed Dansette record players worldwide with harmonies homemade in heaven. Indeed, the world has been a poorer place since we no longer heard from The Ministers' Quartet and Mike Crain, the Karatist Preacher.

But now Mike, the Christian Crusaders (not forgetting Al Davis), and The King's Three (paradoxically a quartet) are among a clutch of once-headlining artists on the comeback trail, gaining a new and well-deserved reputation as purveyors of the most toe-curlingly embarrassing LP covers of all time... and who knows, e'en eternity. Lovingly rescued from a thousand musty charity shops, we proudly present 10 of the very best.

All we want you to do is vote for your favourite worst cover. Click each cover below to see them at a larger size... and in all their glory. And then scroll down and select the one that blesses you most.


Click each cover to enlarge


With thanks to Russ Bravo, editor of Inspire magazine, for rescuing these from the vaults of "Pewburner", the inflammatory satirical column in
Christian Herald
, where they featured regularly.