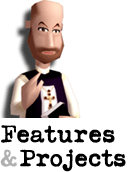 The story so far...

You're currently on our features and projects pages, with material ranging from the satirical to the theological. For more features, click here.
Sexing up Narnia

Back in 2005, The Lion, The Witch and The Wardrobe movie made almost three-quarters of a billion dollars at the box office. Two and a half years on, the next film in the Narnia series – Prince Caspian – is soon to be released, and the film's producers, including CS Lewis's adopted son Douglas Gresham, are hoping to repeat their success. Matt Page met up with Gresham and quickly got into a discussion of strange hobbies, sexing up the role of Caspian, and how God calls the shots in making movies.

"At my stage of life what else would I rather be doing? I could go out and steal eagles or something, but that's an out-of-date hobby at the best of times..."

It's about half way through my time with Douglas Gresham and we've been discussing his role in the Narnia films. Gresham first met CS Lewis when he was a mere eight years old, by which time he was already a huge fan of
The Lion, the Witch and the Wardrobe
. But it wasn't until some years later that he began to dream about one day seeing the Chronicles of Narnia come to the big screen. "I've waited, what, 30 or 40 years for it, but it's been well worth it." And how did it feel finally seeing the film for the first time? "As soon as the thing opened I started to weep, and I cried my way through almost the whole movie." No doubt part of that was joy at seeing his hard work finally come to fruition. Gresham works "on all facets of the movie and that's a pretty big job at times." No kidding. He clarifies that he was joking about the eagle-stealing and we move on.

I only include that quote because it's so typical of the somewhat eccentric character I find before me. Dressed in white trousers and polo necked shirt; black, knee-length riding boots; and sporting a magnificent white moustache, Gresham almost seems like he belongs to the magical world of Narnia that Lewis so wonderfully created. He'd opened our time together with typical Aslanian directness – "Why don't you tell me what this is for and what you'd like to know" – leaving me fumbling about for a neat summary of
Ship of Fools
, and wishing, albeit briefly, that I was working with someone who is slightly easier to pigeonhole.

So after years of being courted by various film studios eager to make the Narnia films, why did he decide Walden Media should be the ones to do it? "Well, when making these kinds of decisions, I cheat – I pray lots. And the result is that if you allow yourself to be guided entirely by the Holy Spirit, you soon figure out which way he's leaning". And from a more human angle? "There were continual bits and pieces that kept indicating to me that this was the way that the Lord wanted us to go. That doesn't always mean that it's made the way I want it made, mind you, but the way the Lord wanted it made at that time, and that's what I think happened."

I'm beginning to wonder if I'd have been better off cutting out the middle man and interviewing the Lord himself. It's not that I doubt Gresham's sincerity, but as a film writer, I'm always a bit wary of those who claim God directs their art. After all, how can anyone honestly critique something if God himself is responsible for it? Perhaps it's just because I've heard so many bad, bad, pieces of music introduced by the fateful words, "God gave me this song".

But any suspicions that I'm being pitched to fade, at least a little, with my next question. Will the Christian audience turn out
en masse
to support
Prince Caspian
, as they did with the first film? "Quite frankly, I don't care. I don't care if the subtler themes draw in Christians or not, because we don't make movies for Christians; we make movies for everybody in the world, of all faiths, creeds, colours, sizes, descriptions. In fact, if anybody else came from another world, I'd be happy to show them my movies." Gresham is pretty clear that he intends these films to have a broader appeal than some of the previous adaptations. "The BBC one was definitely done for kids in a specific age group; ours was done for everybody on the planet". The Focus for the Family radio shows "were very good, but they stuck almost religiously to the scripting – quite deliberately to get as close to the book as possible".

So what changes are there in this version? "We've had to put more excitement into it because, in a film, you can't just have four kids sit down, have a nice long talk by the camp-fire, go for a walk in the woods and then have a battle. It just wouldn't work in a movie."

The book is certainly harder to film than
The Lion, the Witch and the Wardrobe
. It starts conventionally enough with the Pevensie children's return to Narnia, but then pauses for a lengthy introduction to Caspian, the villainous uncle (King Miraz) he is fleeing from, and the cast of Old Narnians who have taken him under their wing. But just as Miraz's troops begin to attack Caspian and his friends, the story turns back once again to the Pevensies and their journey through the forest. They meet up eventually, of course, and there's even a brief battle scene, but the action is largely incidental to the thrust of the story, rather than driving the narrative.

"I think you'll find the message of
Prince Caspian
– the desperate need for a return to true faith, justice, mercy, love, honour, courtesy and all those things, after a millennium of corruption – is more powerful in the movie than in the book. And the greatest one of all, which comes across like a sledgehammer in the movie but is almost drifted over in the book, is the fact that no matter how far we stray, there is always one way back."

Such talk of improving Lewis's book is unlikely to allay the fears of Narnia purists, for whom such talk is borderline heresy. However, Gresham insists that on the basis of the first film, such fans are firmly on side. "The purists will have found themselves utterly delighted by most of it and a little niggled by some of it and that's about as good as you can get. I would have been disappointed if I hadn't had
some
criticism". But despite the fact that the source material has been around for more than 50 years, Gresham seems strangely reluctant to reveal too much about the new film. Asked how it is different from the book, he says he's "not going to give anything away, otherwise it spoils the movie". Asked if the 27 year-old Ben Barnes, who plays Caspian, will have the same vulnerability as the book's 13 year-old prince, he suggests that I "go see the movie and find out".

Presumably, part of the reason for casting an older actor to play Caspian is to ensure he's the right age for the next film,
The Voyage of the Dawn Treader
. However, that also opens up fresh possibilities for the role, and the trailers seem to suggest a degree of flirting between Caspian and Susan – something notably absent from the Lewis novel. Gresham is more than happy with Barnes' work. "I have no reservations about saying that Ben Barnes played the role superbly. I think everything that everyone is looking for in Prince Caspian they will find in Ben's portrayal. He is a superb actor."

Whether anyone will get the chance to perform in any Narnia films beyond
Dawn Treader
depends solely on the box office. "If we don't get the public support, obviously we won't be making the next movie, but as long as the public supports us sufficiently, we'll keep going until we run out of books." No doubt eagles everywhere will be holding their collective breath to see which way it goes.

Matt Page is a member of the Faith and Film Critics Circle and writes the Bible Films Blog.