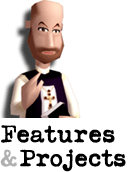 The story so far...

You're currently on our features and projects pages, with material ranging from the satirical to the theological. For more features, click here.
Poetry of fools

The results of our poetry competition, celebrating the Ship's 10th birthday online, are now in. Chorister, organiser of the contest, guides us through the sonnets, haikus and heroic couplets submitted, as well as announcing the three winners.

The tenth anniversary of Ship of Fools was far too important an occasion not to mark in a special way. So, in true Ship style, the Circus forum launched a Poetry Competition to tempt out creative talent from under the lockers and out of the bilges (and believe me, there was a lot of bilge).

Over two months, shipmates past and present wrestled with nostalgia, inner torment and half-remembered school poetry lessons to produce 69 brilliant, witty and downright crazy entries (40 of them actually penned by the same person), to show their fondness and affection for the creaky but stalwart vessel they have called home for 10 years.

Two brave judges, Comet and Tubbs, risked mutiny to whittle the entries down to three major prize winners, although they couldn't resist awarding honourable mentions to Belisarius (a sonnet), Marvin the Martian (10th birthday poem), Ariel (a toast to the Ship) and Mertseger (Ship's 23rd Psalm). "Best of Class" awards go to: Mertseger and Belisarius (The Humphrey Lyttleton Memorial "One Poem to the Tune of Another" Award), Pimple (The Most Prolific Limericist Award) and Wiff Waff (Award for the Best Haiku).

But for Comet, Tubbs and other assorted members of the Peanut Gallery, three entries stood out...

A special box of clotted cream fudge (allegedly a distant relative of Anglican fudge and Roland Fudge, the worship song arranger) has been sent to third prize winner Jahlove for her inspired Ship's Ceiling Cat. Comet says, "Ceiling Cat on the Ship of Fools has excellent meter, and reads aloud very naturally. The combining of both the Ship's lore and the language of LOLcats was very clever and worked very well. Such a concept could have bombed in any but the most deft hand."

A genuine working tin steam ship huffs and puffs its way to runner-up Dyfrig for an apt poem in the style of EJ Thribb. Comet says, "Dyfrig's 'In the style of EJ Thribb' is a clever use of modern verse. It can be hard to pay homage to another's style without appearing to make fun of it. This poem walks that line very carefully and naturally. Nice minimalism, while still managing a nice in-joke for the crew."

A Bobblehead Jesus – first prize – is nodding along to BillyPilgrim for his last-minute Saint Simeon (Holy Fool) entry, which reads...


Fool-ship, Simon-skippered,
Troll-haunted, sock-puppet-stalked,
Spam-storm-tossed, tosser-tossed too:
Hail to her ten-years-ago-launching on web-waves!

Afloat on Life-Sea we
Crew our craft, or passenger at pleasure,
Nor hearing nor heeding Captainís voice
Warning of wreck.

Ship of Fools, Ship of Life:
God be her Captain,
Christ at her helm,
Spirit fill her sails.

Saint Simeon, Holy Fool, pray for her.


Comet says, "BillyPilgrim's Prayer to Saint Simeon, Holy Fool is excellent work! Well written, simple without appearing to try. No syllable is wasted in this piece, and from the very first few words visuals are immediately evoked for the reader. It combines some tongue in cheek "unrest" with serious faithfulness and love. (One might think this really is a Christian Website after all...)"

Congratulations to all the entrants – to those who tried hard and to those who were very trying – you now have 10 years to prepare for the next anniversary event. Plenty of time for those all-important poetry lessons.

Meanwhile, the Ship sails on. She may be getting longer in the bows, wobblier in the crow's nest and more barnacle-encrusted on the bottom, but God Bless all who sail in her.