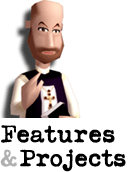 The story so far...

You're currently on our features and projects pages, with material ranging from the satirical to the theological. For more features, click here.
Following the footprints of God

KWAME BEDIAKO, 1945-2008

Iwan Russell Jones reflects on the unique contribution of leading African theologian Kwame Bediako, who died in the summer.

Kwame Bediako was one of those people who, if you're lucky, you may come across once or twice in your lifetime. Brilliant, engaging, charismatic, warm, generous, funny, the real deal: a Christian thinker, teacher and writer of the very highest order who lived what he preached. It was a tremendous shock to discover that he'd died a few months back at the age of 63. Although I'd not seen him for some years, Kwame has always loomed large in my mind as an example, an inspiration, a friend.

Born in Ghana, he gained an international reputation for his work on the relationship between Christianity and African culture, and he could have had his pick of jobs at top universities around the world. But his heart was in the country of his birth, and he remained committed to working out the implications of his faith in that context. Kwame was a lovely and extraordinary man.

I first met him in 1973 when he and his English wife, Gillian, came to study at the London School of Theology (then known as London Bible College). Newlyweds, they'd met in France while Kwame was working on his doctorate in French Literature at the University of Bordeaux. Those of us fortunate enough to be his classmates knew that a giant was walking amongst us. I say "fortunate", but if he hadn't been such a humble man with an infectious laugh and mischievous sense of humour, it would have been utterly intimidating.

Kwame was brilliant at everything. Greek and Hebrew, church history, philosophy, dogmatics... it all seemed to come so easily to him. But, of course, he also worked ten times harder than most of us. He'd only become a believer three years earlier after a spectacular conversion from atheism to faith in Jesus Christ. But as a theologian he was already head and shoulders above the majority of the student body – and above most of our teachers, too.

Even then it was clear that he was thinking very deeply about the relationship between faith and culture, questioning centuries-old Eurocentric assumptions, and developing new and distinctive ideas regarding the way in which God's self-revelation is uniquely heard and understood by different peoples and language groups.

One exchange between Kwame and a particularly smug lecturer is burned on my memory. In the course of a session about biblical hermeneutics, Kwame politely asked what room there might be for non-Western interpretations of scripture, and for a distinctively African theology. The answer was authoritative and self-assured: while there might be some role for non-Western approaches "around the edges" and "filling in the gaps", the task of theology was largely complete. Kwame nodded graciously, and spent the rest of his life proving that patronising response spectacularly wrong.

He went on to complete another doctorate in theology at the University of Aberdeen, before returning with Gillian to Ghana to fulfil their vision of founding a theological research centre, a thriving place now known as the Akrofi-Christaller Institute of Theology, Mission and Culture. Kwame made it his life's work to commend the gospel to Africa, and to present the unique insights of African Christianity to the world.

If Christians in the West are now slowly and painfully becoming aware that ours is not the only show in town, and that, in fact, our faith's centre of gravity, energy and theological reflection has shifted to the global South, it's due in no small part to Kwame's efforts. For me he was, and remains, a giant of the Christian church.

In 1989, it was my great privilege to interview the Rev. Prof. Kwame Bediako for BBC Radio Wales' long-running series,
All Things Considered
. Click here for the interview transcript.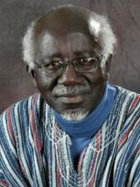 Kwame Bediako.

Interview

Click here to read an interview with Kwame Bediako about African and Western theology, broadcast on BBC Radio Wales in 1989.

Books

Two of Kwame Bediako's most important writings are: Theology and Identity: the impact of culture upon Christian thought in the second century and modern Africa (Oxford, 1992); and Christianity in Africa: the renewal of a non-Western religion (Edinburgh, 1995).