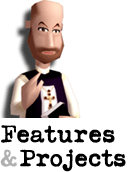 The story so far...

You're currently on our features and projects pages, with material ranging from the satirical to the theological. For more features, click here.
Gongs and angels and a guru's son: a Greenbelt diary

Simon Parke, fresh back from the UK's Greenbelt festival, has handed in his Ship of Fools homework, which was to keep a diary among the festival's tents and seminars. Here it is.

I've just walked past two men in women's wigs, dressed as angels. They're moving on wheels with angelic music playing beneath their long floaty dresses. I'm on my way to see a Christian magic show, via a wide range of food outlets and fascinating tented shops, after which it will be time for a discussion on the power of prayer. A wild gaggle of teenagers walk past me in pink ponchos and intriguing hats. There's a rhythm class away to my left, with 20 or so people beating on drums. It must be Greenbelt.


The un-emerging church


What do I remember? I remember the large grandstand crowd being eager but confused. The speaker, Brian McLaren, is apparently a big noise in his field. But he's not a big noise in this field. In fact, he's no noise at all. He's talking about the emerging church – but no sound emerges from his microphone.

Someone passes him a megaphone, and that's worse. What is he saying? No one knows, and we realise afresh how frustrating it must have been on the edge of the crowd for the Sermon on the Mount. Did Jesus say that peacemakers would be blessed – or
cheesemakers
? That's right: "When two or three are gathered together, and the mic breaks down, thou shalt quote from Monty Python's
Life of Brian
."

The idea, however, that religions could be built on misheard spiritual gems opens intriguingly fresh doors of theological debate. If it is cheesemakers, does that include the producers of all dairy products? We need to know.


Hogworts


The mic
was
working for English Secretary of State for International Development, Douglas Alexander – though perhaps he wished it wasn't. Say anything in public these days, as a cabinet minister, and it's a clear "leadership challenge". Interviewed by Simon Mayo, Mr Alexander wished that politicians could learn to disagree without being disagreeable. "Parliament is Hogworts by the Thames," he said. "The trouble is – bad behaviour in Parliament grows on you like a fungus."

Apparently, though, the press is also to blame: "The press, it seems, seeks only to sustain the British public in a constant state of self-righteous moral indignation." Fair point – and he also highlighted the collapse of the distinction between politics and celebrity. "A picture of David Cameron throwing a frisbee is important. Sad, but true."

His final call to the large audience was a rallying cry: "Politics – it's not fashionable, it's not popular. But by God, it's important!" Striking stuff from the Right Honourable, though in terms of public perception, maybe not right on.


Going for a gong


It was time for a Gong Shower, run by Colin and Olive. They are seasoned festival travellers, though it is their first time here. They tell me that Greenbelt is clean and civilised compared to others they attend, and a good deal more honest. "No need for security guards. People here just don't steal."

For the Gong Shower, I sit upright with my eyes closed behind a large shiny gong, which Colin beats repeatedly and in different styles. He says it is a pioneering work which cuts out the head. This is my experience, as the noise passes wonderfully though me. I have the sensation of walking around the vast hallways of my inner self – caverns of possibility.

Pioneer Colin is a kind but dirty-haired man in his late forties, and Olive, just out of university. And though in wonder at the experience, I leave contemplating the conversation Olive must have had with her parents.

"So what will you do with your degree, darling?"

"I'm going to shack up with a man twice my age and travel the festivals of England hitting a gong."

"Why – that's wonderful news!"


Quiet, please!


Next stop, "Transcendence: an Ancient-Future Mass." Obviously time didn't matter to them, which was just as well because I was a bit late. (Blame Greenbelt. It offers just too much variety.) Anyway, by the time I entered, things were well underway. There were five large screens flashing a multitude of still and moving images at me; rhythmic pre-recorded music pumping through speakers, and various robed figures wandering around in an ethereal incense-mist. And I can still remember the days when an adventurous service leader could get away with a bit of Velcro, and some glove puppets.

There were some clever, hypnotic and thoughtful visuals. I liked the morphing faces of Christ, and the broken wine glass spilling red, again and again and again. But like the adverts, it was all designed for a concentration span of three seconds – and if three seconds was too challenging, you could always look at another picture on another screen. The robed figures were something of a side show as the images flicked and the music played, with the true High Priest being the one with his hands on the controls.

"Too busy," said my friend, on leaving.

And though admiring the grand designs of the event, I think I agreed. I left seeking simplicity, silence and the personal.


When everything stops for tea


In the wonderful "Breathing Space" yurt, I came to my senses with a Japanese tea ritual. It was a mix of Zen, mindfulness and a good old British cuppa. "When I drink tea," says the Old Master, "I drink tea." It is about being present to the moment, looking neither forward nor back.

And as we created our own tea rituals, we also discovered that hospitality is rooted in the idea of "empowering the stranger." We chose Moroccan Mint in our group, which proved rather special, but we also sampled an aromatic Jasmine. Ahh! Tea is a world thing – and so is mindfulness. So remember – when you stop for tea, stop for tea. You cannot arrive at your future unless you notice your present.


The guru's son


Meanwhile, it may be hard to be a guru. But is it harder still to be a guru's son? Frank Schaeffer was at Greenbelt this year.

Francis Schaeffer was the hot ticket Evangelical leader in the 60s and 70s, and thanks to the quiet nepotism of the set-up, his son Frank became his sidekick. He did all that was asked of him, and all that was expected of him – until the day he couldn't. By the time of his death in 1984, Francis Schaeffer had moved on from much of his early fundamentalism, but the meltdown was to be more severe for the guru's son.

A lady came up to him at an airport and said, "It's enough just to touch a Schaeffer." At that moment, Frank decided he could no longer live the inner sense of dishonesty. But what should he now do, given that he really didn't believe it any longer?

He turned to writing, discovered a gift and fiction followed. "But a writer must cannibalise their life," he told the large, early morning crowd, "and many were unhappy with how I spoke of my family. Others could not forgive me for not carrying my father's torch." The cold shoulder of the guru's followers is very cold indeed.

But there are warm memories of his father. "When I got my girlfriend pregnant, it must have been very embarrassing for him as a spiritual leader, with a reputation to maintain. But he was great – and nothing less than completely supportive." His girlfriend has now been his wife for many years, and Frank is learning to be his own guru.


Socket to 'em


And three cheers for sockets. Electrical sockets. When camping, your mobile is vulnerable to power loss, and your hair straightener, a tool without fuel. So every staircase socket on site has teenagers gathered around it in sweet communion. As Confucius probably said: "In the land of wet grass and canvas tent, he who knows where the socket is, knows all."


Too late


I am about to leave, and am finalising some business in the Contributor's Tent, when I see a small notice. I reflect that I wish I'd seen it on arrival, and that how often in life, we discover things seemingly too late. It says:


Follow the secret signs for the nice toilets.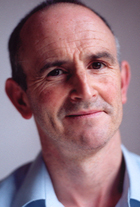 Simon Parke.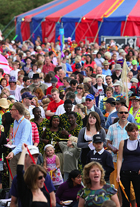 Greenbelt 2008.