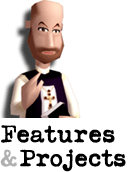 The story so far...

You're currently on our features and projects pages, with material ranging from the satirical to the theological. For more features, click here.
Dry up those dreams
When Sid G Hedges penned a booklet for "growing boys" in 1941, he had no idea it would one day become a cult classic. Steve Goddard reveals his personal encounter with the patron saint of cotton reels.


Soon to be married – and being a naturally gallant sort of chap – I gave up my bed to Allison when she stayed at my parents' house. Of course I was made of stern stuff, the sort that could rough it for the odd night or two in the boxroom, as long as the central heating had been firing for some time.

On one occasion, Allison was unable to sleep – keen anticipation of our forthcoming nuptials, I considered. She rummaged through the bookcase for something to close the eyelids or summon, as Shakespeare's Falstaff puts it, "nature's soft nurse."

The little maroon booklet tucked away on the bottom shelf failed to be matron. Suppressed giggles emanated from my bedroom. A little later, a gentle knock on my door, though improper, set me tingling with anticipation.

"Now I understand the root of all your problems," whispered my soon-to-be in the dark. "I trust you still have a cotton reel handy for the long hours ahead."

With that she handed me the booklet and disappeared into the dark night.

I had forgotten all about
Knowledge for the Growing Boy
, given to me as a fresh-faced 12 year-old – and vividly brought to life by actor Paul Burbridge in a video first produced for the Christian Initiative on Teenage Sexuality from CARE. See it here...



The 31-page booklet, published in 1941, was written by one Sid G Hedges, born in 1897. Wikipedia informs us that, as a regular contributor to magazines like
Boys' Own Paper, Chums
and
Scout
, Hedges also authored dozens of books including
Christian Youth: the Alternative to Hitler Youth
and
Games for Small Lawns
.

But
Knowledge for the Growing Boy
, probably written to the rattle of anti-aircraft fire as Messerschmitt Bf 109s duelled overhead with Spitfires, is undoubtedly Hedges' finest hour.

Taking on the role of a friendly uncle, he tackles the facts of life "in a spirit of healthy frankness", informing us that wet dreams are the result of too much supper, too many clothes on the bed and through "sleeping on the back".

How can we know we are "sleeping on the back"? Thread a piece of string through a cotton-reel and tie the reel round your waist. "If you chance to roll from your side it will press into your back and wake you up."

Hedges warns that the "important fluid from the sex glands can be wasted intentionally. This is a foolish habit, though it is not uncommon among boys who have not enough self-control. Ever seen a horse out of control – a runaway? Not a nice sight; usually ends in a smash. Ever seen a man all self-control gone? A still nastier spectacle."

There are many more gems in the booklet to discover for yourself.
Knowledge...
, originally published by the Pilgrim Press and long out of print, is now available as a download (PDF, 9.2Mb) for the first time here.

A matter of weeks after Allison rediscovered my copy, I wandered into a Christian bookshop in St Helens, near Liverpool, and was undoubtedly led by the Spirit to six copies of the booklet, still priced in pre-decimal currency at 9d each (less than 4p). I bought the lot and distributed them to delighted friends and family for services rendered at our wedding. I shall never forget the look of delight on the face of the preacher, Rev. Eric Delve, who is now Vicar of St Luke's, Maidstone, Kent. "My own copy? Really? To keep?"

Years later, another creative friend sew-wrote Hedges' classic poem, "The Things that are Hard" onto a tapestry – complete with cotton reels. The framed product takes pride of place in our downstairs cloakroom.

I know of fourth and fifth-generation photocopied versions of the booklet that have whizzed round the globe, making
Knowledge...
a cult classic.

The vast resource that is the Internet fails to give us more than a brief summary of Sid G Hedges' life, though we know he went to an emission-free eternity in 1974. Was he buried in swimming trunks, alongside his beloved harmonica and a dozen cotton reels? We will probably never know.

But here, for the first time – and to celebrate Ship of Fools' 10th online anniversary – his "greatest work" is now yours to download. Now you can share in the great international fellowship of the cotton reel.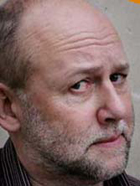 Steve Goddard


Own your own (virtual) copy of Sid G Hedges' cult classic. Download here! (PDF, 9.2Mb)



See Knowledge for the Growing Boy brought to life in a YouTube video presented by Ship of Fools.