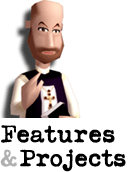 The story so far...

You're currently on our features and projects pages, with material ranging from the satirical to the theological. For more features, click here.
Bones of contention

John Henry Newman is to be a victim of his own success as the Catholic church embarks on the potentially grisly task of making him a saint. Should he be left where he is, buried next to the man he "loved"? Or should he be whisked off to Edgbaston, near Birmingham? It's time to vote...

Shortly before his death, Cardinal John Henry Newman wrote: "I wish, with all my heart, to be buried in Father Ambrose St John's grave – and I give this as my last, my imperative will." His wish was granted. He is currently buried side by side with Father Ambrose in Rednal, Worcestershire, UK.

Only currently, however.

It seems that JHN, philosopher, poet, hymn writer and apologist, is likely to be the victim of his own success. His remains are to be moved to a place of honour in the Oratory Church of Edgbaston, as a lead-up to an expected beatification in the spring or summer of 2009.

"Part of the established procedure prior to a beatification requires that, if the body of the new Beatus exists, then it must be exhumed, inspected and transferred to a place of honour befitting the person's new status," explained Birmingham Oratory, Father Paul Chavasse.

To complicate matters further, gay rights campaigner Peter Tatchell claims the Church is moving the remains because it cannot accept Cardinal Newman may have been homosexual.

"This is a human rights rather than a gay issue," he said on BBC Radio 4's Sunday programme. "I think we owe it to Cardinal Newman to ensure his wishes are carried out. He wanted to be buried for eternity with the man he loved, Fr Ambrose St John. The reason the Catholic Church is not doing this is because they don't want to acknowledge that Cardinal Newman loved a man."

The Church has denied Cardinal Newman was gay and insists his body is being moved to make it easier for pilgrims after his beatification.

But, worse still as far as many are concerned, bone is to be removed from Newman's body to be revered as a relic.

So now it's over to you, shipmate. Your vote will have no impact whatsoever on the matter in hand but we'd like to count it anyway. Should JHN stay for eternity next to Fr Ambrose – or be elevated to Edgbaston? Or, to be a mite mischievous, which of the following (re-written) Newman hymns would you say sums up your view?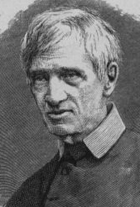 John Henry Newman... happy where he is, or dead keen on a move?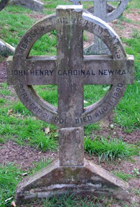 Newman's shared grave.