12. Twelve Apostles Beer Mug
---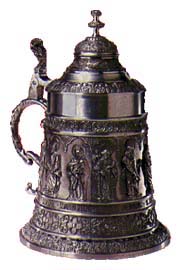 There is something so gross, so garish, so Bavarian oom-pah-pah about
this 12 Apostles pewter stein that we are duty bound to raise a tankard
or two to its makers, Tyrol International. Tyrol are to kitsch what export
is to lager – totally mind-numbing. Purveyors of no less than three of this
year's top 12 Kitschmas offerings, Tyrol products are so tacky, they're
collectible on the grounds of bad taste alone.
So put on those lederhosen, slap your thighs and knock out "The
Millennium Prayer" on that piano accordion, mein herr! The 12 Apostles
pewter stein – yours for $199.
---

11th Day of Kitschmas | Kitschmas Calendar | Archive | Ship of Fools Central

© Ship of Fools 1999