10. Jesus Snowstorm
---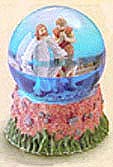 One for total immersionists everywhere – John baptises Jesus, both of them
completely, and permanently, submerged in a blue-tinted Jordan River. Witness
a miracle, too. A shake of the plastic dome and an underwater snowstorm erupts
(as they so often do in the Jordan). Seconds later, JC brings calm. As a special
bonus, the wind-up music box base plays "What a Friend We Have in Jesus." All
for just $19.99 (down from $29.99) from Armchair Shopper.
Tacky? Almost tasteful compared with another water miracle soon to be unveiled.
A long, invisible platform is under construction on Galilee, a centimeter or two
below the surface of the lake. It will allow Holy Land visitors to experience the
thrill of walking on water (at a small cost). Be patient. As ever, full details
first on Ship of Fools...
---

9th Day of Kitschmas | Kitschmas Calendar | Archive | Ship of Fools Central

© Ship of Fools 1999