8. The Full Armor of God Playset
---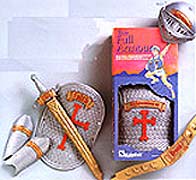 The perfect Christmas gift for the little crusader, the Full Armor of God
Playset provides 3-11 year-olds with a sort of commentary, in plastic bits and
pieces, of St Paul's famous passage in Ephesians chapter 6.
The pack, available from the Catholic Family Catalog, includes a helmet of
salvation (complete with visor), breastplate of righteousness, shield of faith,
belt of truth (it's plastic, but a nice gold colour), sword of the spirit, and...
shin guards. Ephesians chapter 6 has no mention of shin guards, but perhaps
they're the shin guards of chastity or self-control.
At only $25.99, this is a small price to pay for teaching your child about
the Bible and armed combat at the same time.
---

7th Day of Kitschmas | Kitschmas Calendar | Archive | Ship of Fools Central

© Ship of Fools 1999