4. Mother Teresa Barometer
---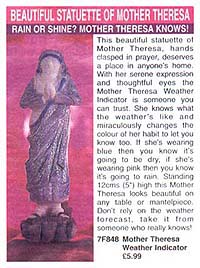 With Mother Teresa on the fast-track to sainthood, it looks like St Genevieve
is about to be ousted from her job as patron saint of people caught in excessive
rainstorms. Teresa is making her bid for the coveted post with this new statuette,
made in England (a country which knows a thing or two about excessive rain) and
clad in a habit which changes colour with the weather.
"If she's wearing blue then you know it's going to be dry," burbles Health &
Beauty Direct, the catalogue in which she appears. "And if she's wearing pink
then you know it's going to rain." At only £5.99, this is a statuette to set your
umbrella by: "Don't rely on the weather forecast, take it from someone who
really knows!" St Genevieve... pack your bags!
---

3rd Day of Kitschmas | Kitschmas Calendar | Archive | Ship of Fools Central

© Ship of Fools 1999